Hi everyone well 2020 fishing season has came to an end here at Jim Rusk Fishing and will be posting so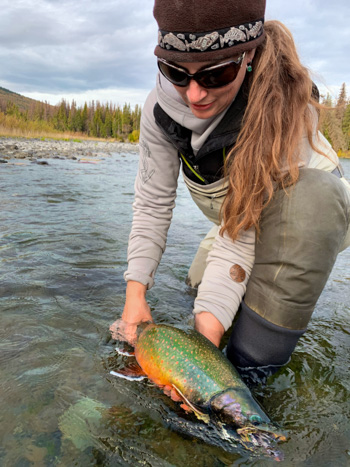 me detailed reports on the 2020 season soon but I recently received this article on Dolly Varden fishing from the Alaska department of Fish and Game and just wanted to share enjoy!
courtesy of Alaska department of fish and game.
---
A fish the color of fall
I fished with some colleagues and friends recently on the Upper Kenai River. We launched the drift boat in the early light of morning from Sportsman's Landing with our fly rods lined and ready to go. We had several boxes of beads, and varying sizes and types of flesh fly patterns. Our plan was to focus on targeting rainbow trout and Dolly Varden feeding on the eggs of spawning sockeye and the decaying flesh of post-spawn salmon.
As the drift boat slid along the easy pull of the river, we watched as our indicators bobbed along the surface wake and made ready for a strike.
We were several fish in when one of us hooked up on a fish that gave us reason to pull the boat to shore. It was a beautiful sea-run male Dolly Varden displaying his full color spawning regalia. His iridescent body reflected the fall colors of the surrounding landscape. We admired him for a short time and snapped a few quick photos before turning him headlong into the current. With a short burst of the tail, he freed himself from the hand and disappeared into the electric blue water.
Each one of us repeated this scenario several times that day, catching and releasing some very well-fed rainbow trout and Dolly Varden.
Good weather, great company, and tight lines – you just can't beat fishing in the fall.
We hope you'll make it out this month to make memories on the water with friends or family. And we hope the information we share in this issue inspires you to get out and fish.
If you're active on social media, tag your photos and fishing stories using #wefishak. And be sure to check us out on Instagram @wefishak. You can also follow us on Facebook at ADF&G – wefishak. We also have a YouTube channel where there is a growing collection of fishing-related videos.
While you're out there targeting the catch of the day, be sure to practice social distancing from any fellow anglers you may encounter and follow the Governor's heath mandates, which can be found here.
If you have a comment or story ideas for Reel Times, we encourage you to send them our way. You can send comments to ryan [dot] ragan [at] alaska [dot] gov.
We'll see you on the water.
Ryan Ragan
Division of Sport Fish
Alaska Department of Fish and Game
Fall Dollys on the fly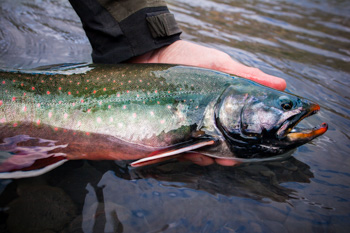 Dolly Varden are one of the most widely distributed salmonids in Alaska. There are two sub-species of Dolly Varden in Alaska, a northern species and a southern species. The northern species is found north of the Alaska Peninsula to the Mackenzie River in Canada. The southern species is found from southeast Alaska throughout the Gulf of Alaska to the south of the Alaska Peninsula.
Dolly Varden are olive green to dark blue or brown, with many yellow, orange, or red spots on the side. The largest spots are usually smaller than the pupil of the eye.
Dolly Varden are fall spawners, with spawning occurring in late September or October in Southcentral Alaska. Females, depending on their size, will deposit between 600 to 6,000 eggs into redds, or their gravel nests. Spawning places great physical demands on Dolly Varden. An estimated 70% of the males, and up to 60% of the females die after spawning.
By March, Dolly Varden eggs have developed into alevin, which survive off their yolk sacs. Once their yolk sac is absorbed, Dolly Varden fry will emerge from the gravel in April or May. Dolly Varden will rear in streams for two to four years before beginning their first migration to sea; however, some may rear as long as six years. Prior to their seaward migration to the ocean in May or June, Dolly Varden go through a series of physical changes called smoltification which allows them to survive in saltwater. During this process, Dolly Varden lose their parr marks and become silvery in color. A small number of Dolly Varden may migrate to the sea in September and October. After their first seaward migration, Dolly Varden usually spend the rest of their lives migrating to and from fresh water in an interesting and often complicated pattern of migration. The southern species migrate into lakes during the fall where they spend the winter. Read more……
Tracking coastal cutthroat trout in Prince William Sound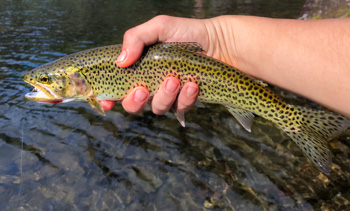 When someone mentions fishing in Prince William Sound, it's the saltwater fishing that usually comes to mind and catching things such Pacific halibut, lingcod, salmon, and rockfish. Fewer anglers really think about fresh water and the somewhat elusive, coastal cutthroat trout. Prince William Sound represents the northern extent of the distribution of coastal cutthroat trout which can provide anglers with unique fishing opportunities and fisheries biologists with unique management challenges. Coastal cutthroat trout are believed to be the closest existing relative of an ancestral cutthroat trout from which all other cutthroat species evolved.
Recently, staff with the Andraomous Freshwater Fish Inventory (AFFI) program documented new locations where coastal cutthroat trout were not previously found in Prince William Sound freshwaters. The true distribution of these fish in PWS remains largely unknown.
Cutthroat trout are typically distinguished by the red or orange band "cut-slash" on the underside of the lower jaw in the skin folds. Not all of these fish have this mark, especially silver colored sea-run fish where this color may be present but inconspicuous. The presence of small teeth at the base of the tongue called basilbranchial teeth are an identifying feature not typically found in rainbow trout. However, these fish can hybridize with rainbow trout further complicating identification of the species.